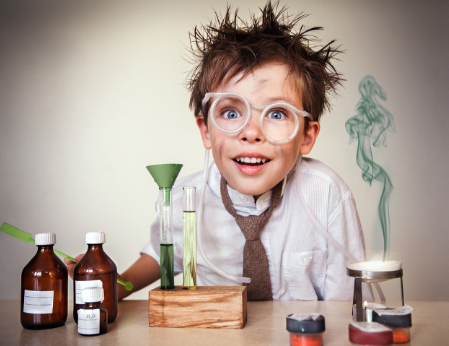 www.dailyalchemy.com
Recently a friend sent me the summary of a book called
A Curious Mind -- The Secret to a Bigger Life
, by Brian Grazer and Charles Fishman.
I like the word CURIOUS because I am the curious type, which is why I am writing my current book,
SHIFT
, (it highlights stories of people who have found true meaning in their work and in their life and comes out later this year).
In
A Curious Mind
, Grazer writes that he is best friends with Ron Howard (he just called Ron up -- well, Grazer was already a well-known movie producer so Ron probably took his call). He also writes about conversations with other famous people like Princess Diana and Barack Obama (when he was a Senator).
While I am not a famous person, I like having conversations with people I don't know -- yet. Writers tend to be curious and pay attention to their environment. We seek out new experiences whenever we can.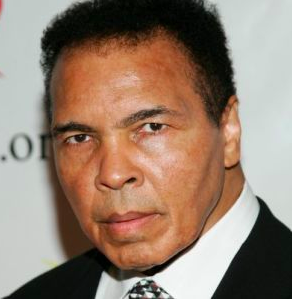 www.biography.com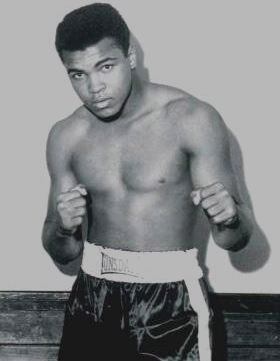 www.cyberboxingzone.com
Many years ago I was walking down a back hallway in a building in New York City when I ran into
Muhammed Ali
and his bodyguard. It was just the three of us. I said
Hello Mr. Ali
. He stopped, slowly leaned forward, gave me a hug, and then asked me (in slowly constructed words) if I wanted his autograph. I gladly accepted the invitation, but only had a napkin to write on. I still have his autograph. When I learned that he had passed, I remembered the napkin that I put in one of my scrapbooks, and smiled as I remembered our brief exchange.
*
Last week a young worker for the local internet provider came over to set up an internet connection for me. He had giant red bulbs hanging from each ear. As I mentioned, I like to engage in conversations with new people, so I commented on them.
"I like your earrings. They remind me of people who put giant rings in their ears to increase the size of the holes." But as I looked closer, I saw that I was wrong.
"They're not earrings," he replied. Oops. I hoped that I hadn't offended him (when you reach out sometimes, foot goes in mouth). I figured that since I had started the conversation, I needed to finish it.
"Oh, what are they?"
"They are from years of boxing."
"Can you remove them?"
"No."
"Well, I think they look like cool earrings. So let me show you where the router goes."
"Thanks. I kind of like them. Reminds me of my love for boxing."
I thought about my visit with Muhammed, who was a world champion boxer, and while he had a slowing of brain and body movement, he didn't have the ear bulbs. I was curious and so I looked up the condition.
Cauliflower ear: An acquired deformity of the external ear to which wrestlers and boxers are particularly vulnerable, due to trauma. When a blood clot (hematoma) forms under the skin of the ear, the clot disrupts the connection of the skin to the ear cartilage.
Maybe that will be a trait of one of the characters in a future book. He made it into this article, so you never know.
*
I was in a book store a few months ago and noticed that the cashier had a giant tattoo on his neck that said
God is Dead.
I was curious.
"Wow, cool tattoo; why that phrase?"
"Because he is."
Interesting.
www.ghiradelli.com
*
I was in line at the grocery store the other day and noticed that the woman in front of me was wolfing down chocolate covered raisins (that she had bagged from the bulk bin) so that she didn't have to pay for them all (or she was really hungry). As she swiped her credit card to pay for the groceries, it was obvious that her mouth was full of (and drooling) the chocolate covered raisins. What was the checker going to do -- ask her to spit them out so that they could be weighed and then charge her for them? Accuse her, humiliate her, or just let it go? He let it go and smiled the whole time. He was a giver.
Interesting.
*
So after reading the summary of
Curious
, and keenly observing the world around me on a daily basis, I decided that I would try an experiment. I would commit to meeting someone new every day for six days and, if the situation warranted, have a meaningful conversation. Why six days? I wanted a day off to reflect.
This is a summary of who I met and what I learned.
Day 1
I was out with friends, one of whom invited another friend to join us. The guy was the owner of a local gym. Not the sweatshop type, but a low key gym where people from all walks of life go. People worth millions work alongside others hovering above the poverty line but are invested in their bodies anyway.
The gym owner was going through a tough divorce, which basically meant he was starting over, and in the next breath told me that I should meet his spitfire girlfriend who teaches Pilates (something I have always wanted to try because I need a stronger core). He had the biggest smile and the shiniest head. I liked him right away.
I later reflected on how happy the guy was, even though his life behind the scenes was a challenge. He was engaged in the moment. We all have roadblocks along the way; it's how we react to them that helps establish our quality of life.
Day 2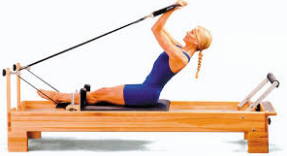 www.colorado.edu
I met his girlfriend, the Pilates Instructor, and took my first lesson. She was a high energy dynamo and a cancer survivor-twice! I watched her say goodbye to the client before me. She offered a big hug, a sincere smile and a few words of encouragement to the person, which went beyond getting in shape. She knew how to connect with people. I could tell that she had compassion, empathy and a zest for life.
During my lesson she was so attentive to me and I learned that she had a lack of concern about what anyone thought about her. She was full of great ideas to help others (not just cancer survivors) and had already befriended a homeless man who told her that she saved his life by being his friend.
After my very cool session with her (Oh, I signed up for 8 more), I thought about how much I really respected this gal and heck, she can do and say whatever she darn well pleases. I mean, to go through cancer, a divorce, raise three kids, run a business and be happy. That's embracing life and living it. She may be in a future book too!
Day 3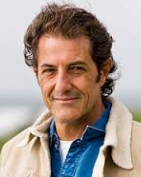 https://en.wikipedia.org/wiki/Shaun_Tomson
I was out to dinner with a friend and we ran into some acquaintances at a cool restaurant where we showed up, hoping to get a seat at the bar. There weren't any available and the hostess told us that we could maybe get in at 10pm.
Lucky for us we ran into the newer friends and were able to snag two seats at the community table where several of their friends were sitting. They told us that they were hosting a party for yet another friend and that we could join them.
We declined because we didn't want to intrude, but they did introduce us to a bunch of new people, one of whom was surfer
Shaun Tomson
. I said hi and shook his hand, not knowing who he was; but the friend I was with knew who he was and whispered, "I wish I could have gotten my picture with him." That's ok. He got to shake his hand too and that was cool for him.
Not long after we said our goodbyes and took our community table seats, Shaun pulled up a chair and visited with us for a good half hour while we ate our meal. He and my friend talked about surfing and family and life in general. I found out that Shaun was from South Africa (loved his accent), but I mostly listened and concluded -- what a nice, casual guy. He left us by pointing at my friend and saying "You are a good man and you are with your sweetheart." How sweet. I gave him a big hug when we all got up to leave.
Being the curious type, later that night I looked him up. I discovered that he was a world champion surfer, had a clothing line and gave lots of speeches to large corporations about the things that we all should do in life to be successful and happy.
Click here to watch one of his speeches.
Interesting!
Day 4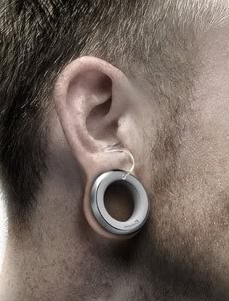 www.incolorsclub.com
I got a massage by a guy who was hippy like and very mellow. I liked him right away and noticed the giant holes in his earlobes. Reminded me of the internet worker, because both had unique ears.
What inspired me about the masseuse was his soft spoken nature, his simple approach to life, the fact that he had worked at
Esalen Institute
in Big Sur, CA for years (an institute I knew many teachers from). I immediately thought back to the three days I spent in silence at a monastery down the road from Esalen in an attempt to figure out my own life path.
The masseuse was at peace and completely content spending an hour and a half working his craft and offering healing to another. Selfless, calm, content. He was living a life of happiness.
Day 5
Romeros Canyon, Montecito (photo from Runners World)
I went running with a new gal I had met on several occasions. She drove me to a trail high above the ocean, which we could see in the distance. I felt like I was on top of the world. The run was magical.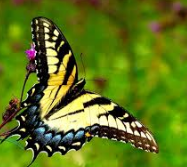 http://naldzgraphics.net/photography/40-beautiful-butterfly-photography-for-inspiration/
A large black and yellow butterfly crossed in front of me (I told her that I see a butterfly every day).
We navigated our way up and down fire roads and single tracks until we covered 8.5 miles. I was so enjoying our girl time conversation, that I didn't even notice how far we had travelled.
We talked about everything; relationships, work/life balance, our dreams, our feelings. There was no judgment, no competition. I later reflected on that interaction and realized that having girlfriends, having friends in general, is so important for a happy, balanced life. We all have so much on our plate, but to take the time to connect in meaningful, heartfelt conversation is a way to replenish the soul. It was a great morning.
Day 6
I was sitting alone at a bar in a restaurant where I was waiting to meet a colleague. Even though I am not the bar type, I am OK with being alone. I had my iPhone with me, which has all sorts of books loaded onto it, and I could check my email. Otherwise, when I am alone in a new place, I like to observe.
A woman took the seat next to me. Great opportunity to strike up a conversation. I found out that she was new to the area and wanted to go to a newcomer mixer the following week and that maybe I would like to go with her. She was a criminal defense attorney, her son recently graduated from an Ivy League college and now lived in New York and she missed him greatly. She dreamed about having a place in New York too so that she could see him more often. We talked about her work/life balance, her desire to make new friends and her love for her son. I told her that we had both made a new friend.
And then my colleague showed up and she was gone. I think I'll probably run into her again at a newcomer mixer.
Day 7
Today is Day 7. I think I will continue my experiment. I have a funny feeling that I will meet someone very interesting.
My 6-day conversation takeaways:
• Live in the moment

• Be empathetic

• Listen and learn

• Smile

• Do not judge

• Be curious

• Reach out, talk to people

• Be a giver

• Do your own thing

• Happiness is about connecting with others

Jody B. Miller is the CEO of C2C Executive Search & Strategic Management. She also writes books about work/life balance, articles for The Huffington Post and LinkedIn about topics we think about (yet don't always talk about), and novels about love and friendship. Her new book; SHIFT, How to Find True Meaning in Your Work and in Your Life, will be in stores in late 2016...
-- This feed and its contents are the property of The Huffington Post, and use is subject to our terms. It may be used for personal consumption, but may not be distributed on a website.