Warmer weather is just around the corner, so it's time to think about lightening up. These five simple recipes will help you swing right into spring!
1. Green Pea & Asparagus Soup with Feta & Mint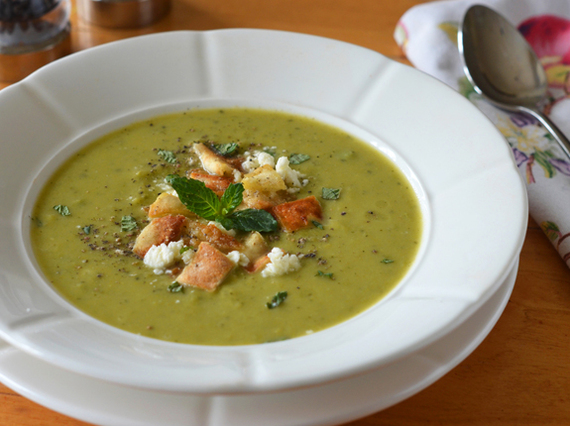 This soup, made from fresh asparagus and frozen peas, is the perfect prelude to spring. Feta cheese and pita croutons add tangy flavor and delicious crunch to every spoonful.
GET THE RECIPE
2. Kale & Brussels Sprouts Salad with Walnuts, Parmesan & Lemon Vinaigrette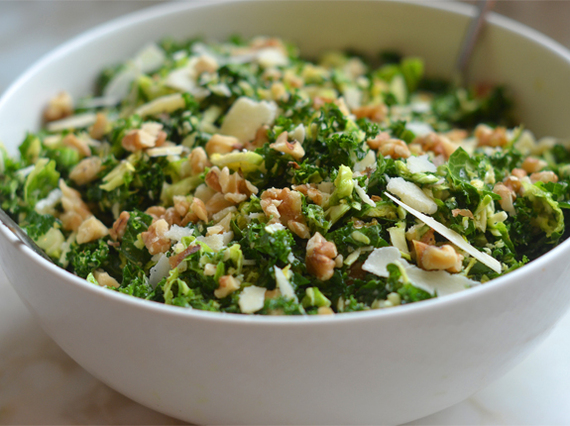 Made with crisp power greens, toasted walnuts, chunks of Parmesan and a lemony Dijon dressing -- this salad tastes like a healthful, crunchy Caesar. Be prepared to love it, even if you're not a kale or brussels sprouts person. Make it for weekday lunches or as a side to simply grilled salmon, steak or chicken. Bonus: it keeps well and can be made ahead of time.
GET THE RECIPE
3. Grilled Moroccan Meatballs with Cucumber Yogurt Sauce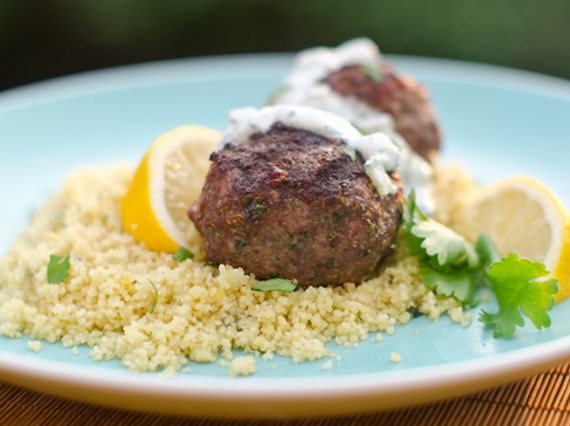 Warmer nights mean it's time to spring-clean the grill. Kick off the season with these Moroccan Meatballs -- served over couscous with a cooling yogurt-cucumber sauce, it's a quick and easy meal that's big on flavor.
GET THE RECIPE
4. Asparagus Soup with Lemon and Parmesan
This delicate and creamy asparagus soup tastes wonderfully luxurious, yet it's made without heavy cream -- just vegetables, broth and a hint of cheese puréed to silky perfection. It's perfect for early spring, when asparagus is in peak season and there's a chill in the air.
GET THE RECIPE
5. Strawberry & Orange Salad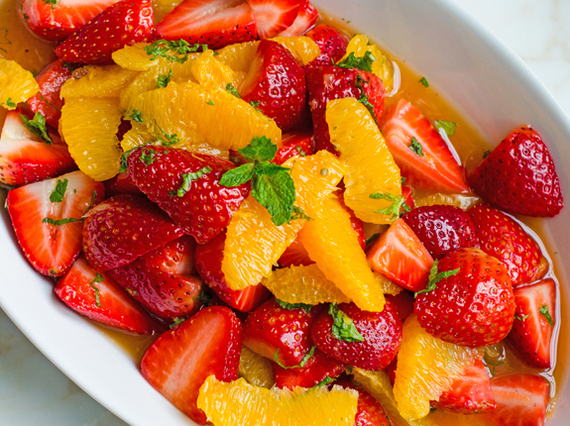 Strawberries are coming into peak season, so now's the time to make this fabulous fruit salad. Serve it for brunch -- it dresses up the table and pairs well with savory quiche and casserole dishes -- or for dessert with shortcake and whipped cream.
GET THE RECIPE
-- This feed and its contents are the property of The Huffington Post, and use is subject to our terms. It may be used for personal consumption, but may not be distributed on a website.