Easter is an amazing opportunity to indulge your chocolate craving, but what if you're looking to diverge from the traditional eggs and bunnies while still staying festive? Stick With Me Sweets brings color, unique flavor, and traditional pastry technique to each of its confections. Chef Susanna Yoon opened the quaint shop one year ago in New York's NoLita neighborhood. Fresh off her successful stints at Per Se, and Cafe Boulud, and her training at The International Culinary Institute, Chef was ready to be her own boss.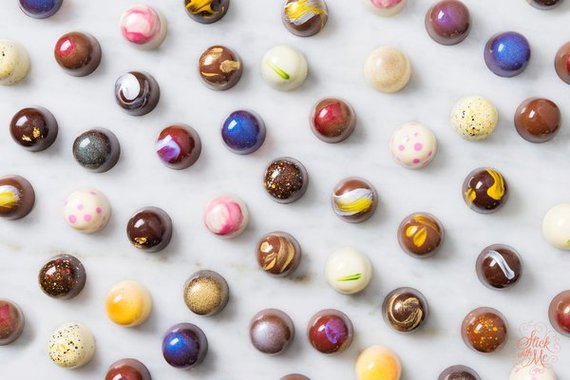 Photo courtesy of SWMSweets.com
The shop takes a narrow space and makes it feel airy while showcasing the brand's many caramels, truffles, nuts, and--most notably--bonbons.
Upon entering the storefront, you see a counter topped with an assortment of bonbons in perfectly-aligned rows. When requested, a server carefully picks each chocolate and places it inside a box that looks like a book. "Each chocolate has a story to tell," Chef says. Indeed, it is a fitting metaphor considering their bonbons are more than their covers.
All their sweets are made in the kitchen behind the storefront. Chef and her crew work daily to melt rich chocolate at the perfect temperature until it has a smooth, glossy, finish. Bonbon trays are hand-painted into starry, or Jackson Pollack-esque designs in preparation for molding uniform-width chocolate shells. Next, the fillings are added, everything from matcha ganache to peanut butter praline. Don't get too overwhelmed, though. Here are some of my favs:
Top Bonbon Picks:



Gianduja Hazelnut: Filled with hazelnut ganache, it will melt on your tongue with the tiniest crunch.



Raspberry Rose: The fruity and floral combination is like edible Spring.



Vero: Smooth caramel rests atop pecan praline



Black Sesame and Passion: The seeds are roasted to draw out their rich flavor, then topped with passion-fruit jam.



On January 27th, Chef Susanna Yoon was named one of the "Top 10 Chocolatiers in North America" by Dessert Professional Magazine. The event took place at the Institute of Culinary Education in NY's Financial District, and offered guests the opportunity to experience winning desserts from across the continent. Stick With Me Sweets more than held its own next to fellow winners, like Chocolat by Adam Turoni (Savannah, GA) and Polska European Bakery and Chocolat (San Luis Potosí, Mexico). My congratulations go out to Susanna, her team, and the rest of the winners.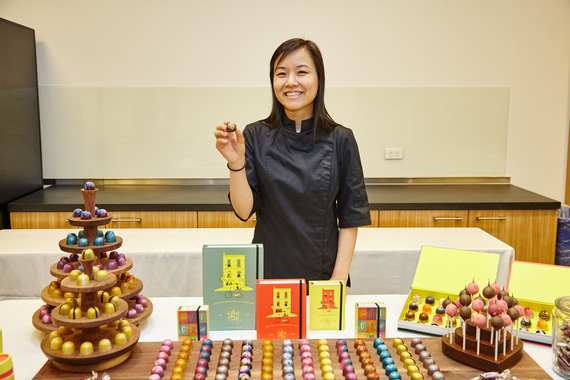 Susanna Yoon at Dessert Professional Event. Photo by Felicia Perretti.
For more info on Stick With Me Sweets, check out: SWMSweets.com
For more info on the author, Alex Schattner, check out: AlexSchattner.com
Read more entrepreneurial stories! Catch up on #ArtofY:
Concierge Anonymous
Making Mobile Games
Making a Kidswear Brand
Start Small, Keep the Day Job
Lokai: Balancing Life
Good-Time Sunglasses
Big Dreams Over Broadway
Socially Conscious Cashmere
Public Art in Digital Space
Customized Costume Jewelry
Yogurt Culture
Wine in a Box?
Local Manufacturing
Space for a Natural Energy Drink?
The Art of Y(vonne) Sangudi: The Next Great Songstress
'JewDate', Finding Farce in eLove
Redefining the Music Industry
An Interview With Fashion Designer Catherine Litke
-- This feed and its contents are the property of The Huffington Post, and use is subject to our terms. It may be used for personal consumption, but may not be distributed on a website.