A deep appreciation for the elegance of thrift.
As a granddaughter of the Holocaust, food insecurity is rooted in my family of origin. To this day I detest food waste. A FaceBook friend's post about an innovative food-based charity
L.A. Kitchen
intrigued me. They were planning a night of 100 dinner parties across the Southland called
Shared Plates.
Having raised almost $40,000 from that night a couple of weeks ago, an anonymous donor will continue to match every dollar donated up to $1 million.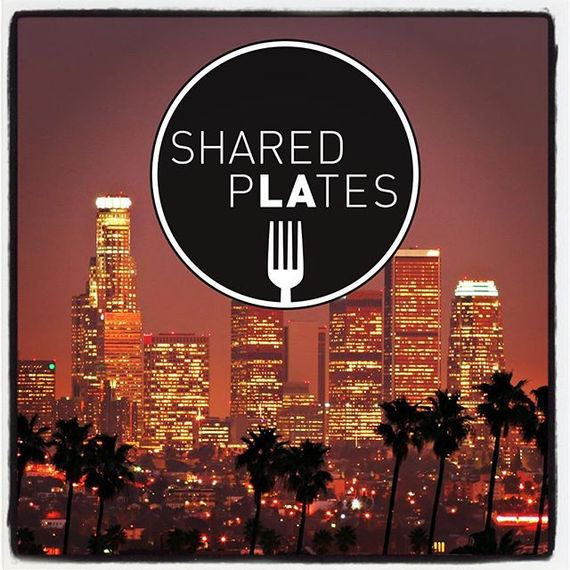 Hunger persists in the City of Angels.
Non-profit L.A. Kitchen serves double duty. The hungry are fed excellent chow that otherwise would be trashed. Turning out tasty nutrition for those who need it while teaching skills to enhance one's viability in a competitive jobs market sounded right up my alley. 100% of the proceeds from these dinner parties were donated to an organization dedicated to sourcing food about to expire, teaching culinary and beverage expertise to underemployed populations and serving the finished product to the needy. Those newly released from prisons and young adults launched from the foster system are taught to be chefs. Finished meals are then delivered to senior and day care centers as well as after school programs.
Curious about
Ms. Feinstein's
FB post I immediately called my homie Luisa Bottari-Stern to see if she was interested and of course she was. The earthquake of
Amatrice
, near Rome, had just occurred. (Weeks after the dinner party major aftershocks continue.) We agreed that a menu honoring the cuisine of this region made sense.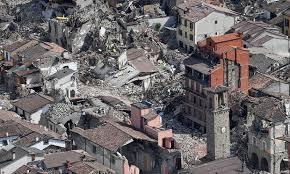 Though a historic place may crumble, stirring, chopping, sauteing, boiling, roasting and baking holds a culture's collective memories in place as its citizens rebuild. Photo courtesy of The Guardian
In addition to the tomato and pork cheek ragu, Amatriciana, Luisa confirmed that pastas and risottos are typically Roman. Pasta Carbonara (which happens to be Luisa's husband's Adam's favorite pasta) came to mind as did a Porcini Mushroom Risotto. We wound up eating clams and mussels spaghetti because we agreed there was too much pork on the menu and harvests from the sea are so Italian. Looking for recipes I found one from a delightful blog
Rome Loft
which uses Zingerman's ingredients. I recalled receiving their playful catalog in the mail and was pleased to find the website remarkably similar.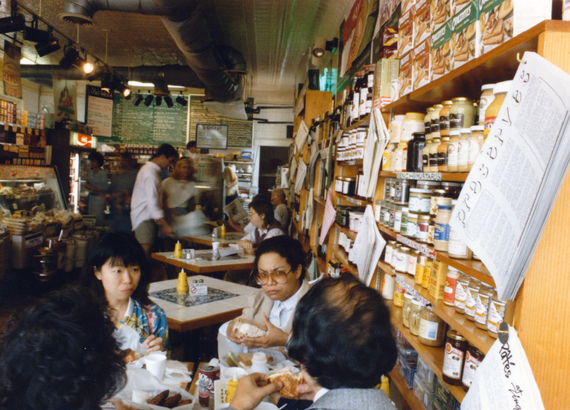 Vintage photo of Zingerman's proves delicious food bonds people in a unique way.
It was Luisa's idea to wrangle in her neighbor,
Stacie Hunt
, Master Sommelier and Video Producer who recently did the wine for our
Sardinia dinner party
. (As a side note, Ms. Hunt had just came off an impressive event having created social media for
Desert Trip.
) Stacie provided the wine,
Ventresca silky belly tuna,
and
party favors
from
Corti Brothers
, a much loved Italian grocery in Sacramento, California.
Zingerman's
is a haloed place of scrumptiousness an Ann Arbor, Michigan, deli which proved to be our life line. We - Luisa, Stacie and I - are three busy professionals. The idea of putting together a menu, dividing up responsibilities and shopping together or alone for ingredients was inconceivable. With the well organized and inviting website, each of us was able to peruse the comestibles, abundant with Italian items, on our own. We threw out ideas with the click of computer keys and shared links on group emails.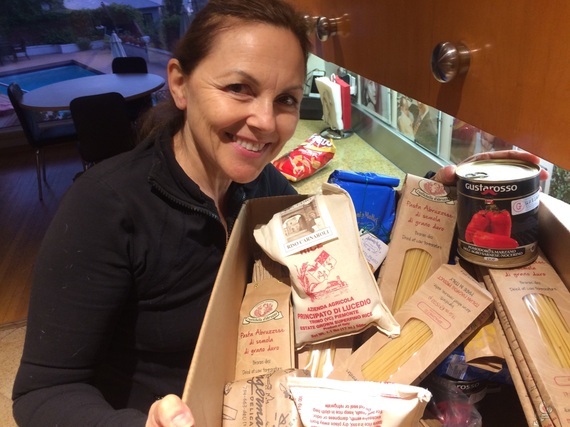 Like Christmas in October a big box came for Luisa from Zingerman's as scheduled.


What could have been a hassle became convenient. To her credit Luisa undertook the lion share of cooking duties and dear that she is, set the table. When we arrived at her home a gorgeous sunset the color of our Aperol Spritz greeted us.
Our crew assembled, fees paid by guests and voila, easy as that, we looked forward to an old fashioned dinner party for charity.


There was something so civilized about sitting around the table for soulful conversation after cooking and serving. I adored the origin stories of how we all met. One couple, Betsy and Mark were old college friends of my significant other,
Lewis Perkins.
It was a pleasure to become acquainted with
Scott and Tash
who are partners in life and architecture.
Luisa and Peter's (Stacie's husband) narrative took the cake. The Bottari-Stern and Hunt-McBride clans were neighbors for several years yet had not ever socialized which is not uncommon in Los Angeles. A few years ago, a random dialogue was struck one fateful afternoon.
As kismet worked, Peter, a retired school teacher, Vietnam vet, working journalist and long time surfer
a la
Moon Doggy, was hosting former students later that day. Luisa was invited to the gathering, being an educator herself. She posed the question as to how these grownups remembered their former teacher. A number of them remember his name changed mid-way through the year from Mr. Guker to Mr. McBride.
Guker was the last name of Luisa's Italian mother's, Lilia's, U.S. doctor. Peter's father was a famed orthopedic surgeon Lilia sought out who saved her from complications after a horrific car crash involving half of the family which left this 30 year old mother of five under the age of 7 a quadriplegic. (It was 1968 and seat belt usage was not the norm.) In the discovery of a few degrees of separation that existed between Peter's and Luisa's families a familial friendship was instantly formed.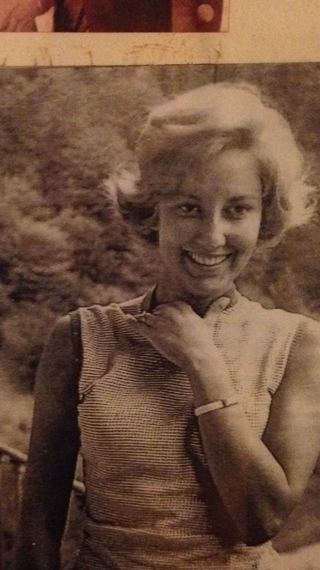 Lilia Costa Bottari, near Biella, Piemonte, shortly before her accident. Luisa remembered that every day her Roman mother would order food items over the phone. Purveyors came by their house for Lilia to inspect the goods. She made her purchases and then directed cooks from her wheelchair.
As chance would happen it was also the night before the 6th wedding anniversary for Stacie and Peter, who serenaded us with his guitar over antipasti.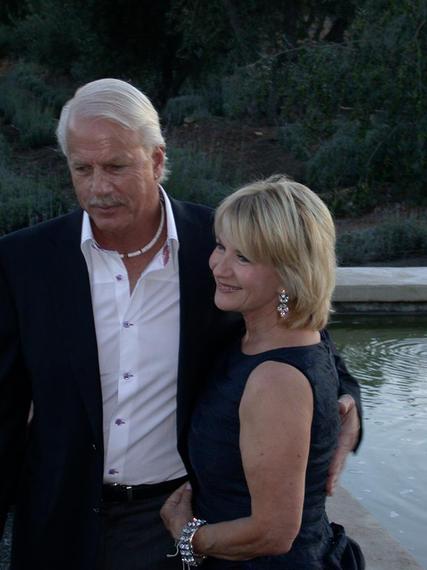 Stacie and Peter's wedding at
La Villa del Vallein Guadalupe Valley, Baja California, Mexico.
A few shout outs courtesy of Zingerman's so easy to shop after a full day of work.
Two Sicilian pestos spread on flatbread as part of the antipasti -
Trapanese
which Luisa never knew existed and a spicy basil based
pesto
(not Genovese).
Guanciale
pork jowl for the sauce along with tomatoes from
San Marzano
(yes they are different, special and worth the effort to seek out).
Extraordinary pasta
, bucatini and spaghetti, bronze cut, leaves a rougher edge with more surface area for sauce to hang onto, not to be too geeky.
Aceto Balsamico
Vinegar from Modena, another area of Italy rocked by earthquakes in the last 5 years.
Beautiful risotto
(right down to the packaging).
Cheeses - For antipasti we savored a fragrant caved aged
Taleggio
and
Fontina
. Pecorino Romano was added to the Bucatini All'Amatriciana and Parmigiano to the risotto in the sauces and as garnishes. (No cheese was added per Italian tradition to fish and seafood plates.)
Medium brew
espresso
capped the meal with a mild, lush taste with notes of caramel.
Panna cotta with a raspberry coulis for dessert with
biscotti
from Tuscany cookies just like home says Luisa,
"Bravissima!"
The delicious grapes we drank.
Once again Stacie's picks were outstanding.
With the antipasti dry
Cleto Chiarli (100%) Lambrusco del Fondatore, Emilia-Romagna DOC
- is no ordinary picnic wine rustic and bubbly from a 150 year old estate.
With dinner the red was a 2014
Sassoregale (also 100%) Sangiovese, Maremma
DOC.
The white was a 2014
Mormoraia
Vernaccia di San Gimignano Siena which also boasts a center for agrotourism!
*The title of this blog paraphrases artist
Barbara Kruger's
quote, "It's a small world unless you have to clean it."
-- This feed and its contents are the property of The Huffington Post, and use is subject to our terms. It may be used for personal consumption, but may not be distributed on a website.