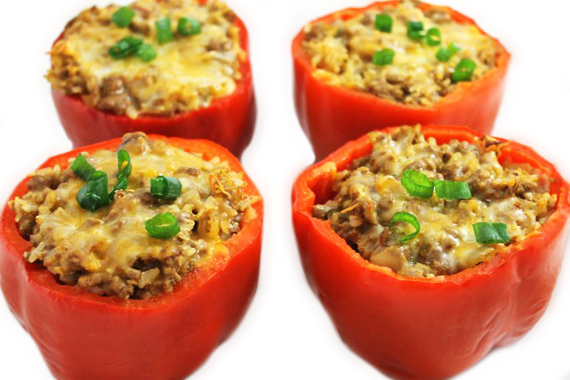 I could hardly wait to share these stuffed peppers. They are absolutely delicious! The filling tastes just like a cheeseburger. I've made them healthier by using extra lean ground beef, brown rice and lite cheese. Such a satisfying dinner, you'll be stuffed!
Each serving has 349 calories, 12 grams of fat and 8 Weight Watchers SmartPoints.
Prep Time: 20 minutes
Bake Time: 40-45 minutes


Ingredients
1 cup cooked brown rice
1 pound extra lean ground beef (96%), see shopping tip
1 cup onions, diced
Salt and pepper, to taste
2 tablespoons Worcestershire sauce
2 tablespoons ketchup
1 tablespoon mustard (I used a spicy brown mustard)
1 tablespoon pickle relish
⅓ cup tomato sauce, can or jarred
3 tablespoons water
1 cup lite cheddar cheese, mozzarella or blend, shredded (I used Trader's lite Mexican blend)
4 large red bell peppers, yellow or orange (each about 3½ inches high and 3½ inches wide)


Instructions
1. Cook rice and set aside. Cut off the top of 4 bell peppers about 1-inch down from top. Clean out seeds and membranes. Throw away the tops.
2. Preheat oven to 400 degrees.
3. In a large nonstick pan, brown ground beef and onions. Season beef with a little salt and pepper. Be sure to break up ground beef into small pieces as it cooks.
4. Stir in Worcestershire sauce, ketchup, mustard, pickle relish, tomato sauce and 3 tablespoons water. Mix well. Stir in ¾ cup shredded cheese and cooked rice. Mix well and continue to cook until heated through. Add 1-2 more tablespoons of water, if getting a little dry. Remove from heat.
5. Stuff each bell pepper with ground beef mixture, top each stuffed pepper with 1 tablespoon shredded cheese. Place each in a 9-inch baking dish. Pour 1 cup water in bottom of baking dish. Cover dish with foil and bake for 40-45 minutes. If peppers are not soft enough, cook about 5 minutes more.
6. Once cooked, cooled and wrapped, they freeze great!
Makes 4 servings. Each serving, 1 stuffed pepper
Shopping Tip
Happily most supermarkets sell extra lean ground beef. I used the 96% lean ground beef from Trader Joe's. You could use ground turkey, if desired.


Weight Watchers SmartPoints 8

Weight Watchers POINTS PLUS 9

Weight Watchers (old points) 7
SKINNY FACTS: for 1 stuffed pepper
349 calories, 12g fat, 5g sat. fat, 78mg chol, 32g prot, 33g carbs, 619mg sod, 9g sugar
FACTS:for SmartPoints
300 calories, 5g sat. fat, 3g sugar, 31g protein
Note:
1. The nutrition facts were calculated on
Spark People.com
.
2. The Weight Watchers SmartPoints and Points Plus were calculated on
CalculatorCat.com.
For more Skinny Kitchen recipes, please join me at:
http://www.skinnykitchen.com
Follow Nancy Fox on Facebook:
https://www.facebook.com/SkinnyKitchen
Follow Nancy Fox on Twitter:
www.twitter.com/skinnykitchen
Follow Nancy Fox on Pinterest:
http://www.pinterest.com/skinnykitchen/
Follow Nancy Fox on Twitter:
www.twitter.com/skinnykitchen
-- This feed and its contents are the property of The Huffington Post, and use is subject to our terms. It may be used for personal consumption, but may not be distributed on a website.